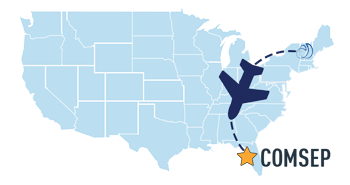 The Aquifer team will be on the ground in St. Petersburg, Florida for the Council on Medical Student Education in Pediatrics Annual Meeting. We are committed to helping all of our users make the most of their subscription. Bring your questions—we will be ready to answer and provide updates on our latest innovative educational tools.
Programs & Partners
Wednesday, March 20: 1:30 – 2:30pm
Are you up to speed on the latest educational tools and developing projects from Aquifer? Do you have questions, or want to learn how other educators are using Aquifer? Come by our table to connect with Aquifer Educators Consortium members. Hear the latest on our new formative assessments (currently in development), Pediatrics Educator Guide, Aquifer Sciences Initiative, and more.
---
Schedule a Consultation
Wednesday – Friday
Aquifer's Cate Hancock will be attending COMSEP to provide individual training and answer your questions. If you would like to set a meeting, please contact Cate to arrange a time.
---
Presentations
Un-Blinded Me With Science: Integrating Basic Science Into Clinical Reasoning Using "Integrated" Illness Scripts
Wednesday, March, 20: 10am – 12pm
Presenters: Michael Dell, MD; Robin English, MD; David Harris, PhD; Kathryn Miller, MD; Leslie Fall, MD
Medical schools struggle to meaningfully integrate basic science core concepts into the clinical curriculum, particularly in a manner that leverages understanding of causal mechanisms underlying common conditions to inform clinical reasoning. In this session, participants will collaboratively develop "integrated" illness scripts and consider applications of this cognitive integration method into their curricula. Illness scripts have been shown to be an effective method by which novices learn clinical reasoning skills. Cognitive research demonstrates that expert scientists and clinicians have difficulty "unpacking" their knowledge and making it available to teaching novice learners. Conversely, students often struggle to transfer basic science knowledge to clinical problem-solving. Development of 'integrated' illness scripts, whereby the key clinical findings of a given condition are clearly combined with the underlying basic science mechanism for each finding, is an effective means for integrating basic science concepts into students' cognitive representations of core clinical conditions. Following a brief discussion regarding barriers to transfer and an evidence-based mini-didactic, participants will work in small teams to develop integrated illness scripts that demonstrate the basic science foundation for the clinical presentation of common pediatric conditions.
Finding Your Flow with Aquifer
Friday, March, 22: 10am – 12pm
Presenters: Kamara Carpenter; Robert Drucker, MD; Sara Fear; Michelle Raphael-Britt
Intended primarily for administrators, this workshop will also be useful for clerkship directors who are interested in learning more about the resources available for the use of the virtual patient cases developed by Aquifer. New tools have been developed to facilitate use of the cases, such as tracking case use or identifying specific cases that can fill gaps in the clerkship. Workshop facilitators will share some of their experiences, including creating unique curricula, finding cases to fill gaps in the clerkship, and tracking students. The workshop will provide opportunities for participants to have hands-on practice with the tools. Participants will then rotate through facilitated small group discussions looking at the tools available through Aquifer to enhance the way clerkships use the cases.
Naming and Reframing: Portrayal of Race and Culture in Medical Education
Thursday, March 21: 2 – 4pm
Presenters: Michael Dell, MD; Alicia Freedy, MD; Sherilyn Smith, MD; Rose Milando; Leslie Fall, MD
Bias and discrimination in healthcare affects healthcare access and quality for minority groups, contributing to racial health disparities. To study the issue of bias and discrimination in education materials, a diverse group of students from across the country examined the portrayal of race and culture, using Aquifer cases as a test curriculum. Based on extensive literature review, the students generated guiding principles and a checklist to guide systematic review of the cases. This checklist may serve as a tool for re-evaluation of curricular materials through the lens of race and culture, as well as to promote longitudinal discussion of these topics throughout medical education.