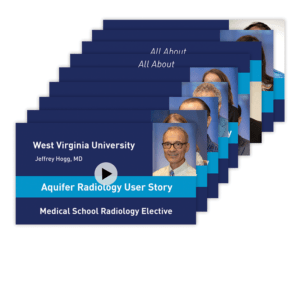 We're excited to bring you our user story videos, filled with experiences from top health care educators using Aquifer. Find out how other programs are using the cases, benefits to faculty and administrators, and the results they are seeing in their students.
Whether you're thinking about subscribing or have been using Aquifer for years, the videos below provide a new perspective with valuable insights into using our cases and content to maximize student engagement and teaching efficiency.
---
Stories by Course
---
All About the Courses
---
Stories by Program
---
Aquifer Radiology Educator Resources
Are you taking advantage of the free resources included with your Aquifer Radiology subscription?